Meet your world-class Rev32 coaches who will support you every step of the way with fitness, nutrition, and accountability so you get the results you want. 
Rev32 Coach
Certified Personal Trainer (NASM)
From an early age, Naeim loved to swim and eventually swam competitively through college. Naeim utilizes his well-rounded background to aid his clients. He loves to incorporate a variety of techniques like high-intensity interval training, TRX training, flexibility, mobility, weight training, and proper progression for achieving various fitness goals. His aim is to create individualized fitness programs for his clients to help them achieve the best version of themselves.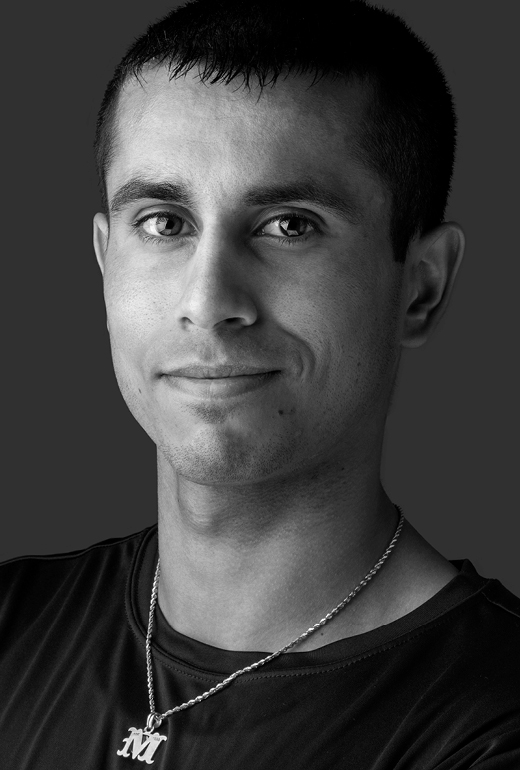 Rev32 Coach
Certified Strength & Conditioning Specialist (NSCA)
As a personal trainer, Veeral's "why" comes from a love of putting his energy towards others, an understanding and appreciation that his clients are trusting him with their bodies and their health, and using his passion for fitness as a vehicle to serve. Veeral's approach to fitness is from a "movement first" perspective. He is a detail-oriented coach who highlights the difference between good performance and great performance with conscious, self-aware body control while equalizing the importance of the workout with high standards of safety and enjoyment. Veeral believes in the holistic benefits of fitness beyond physical health, such as confidence to overcome other challenges, strengthening mental health, and for its many life applications, such as goal-setting, effort, consistency, and a driven attitude for conquering each day.
Rev32 Coach
Certified Personal Trainer (ACE)
Certified Group Fitness (ACE)
Virtual Fitness Coach
As a Rev32 Coach and Virtual Fitness Trainer, Michelle looks at each of her clients as her own personal project. She will design a routine that allows her clients to build on their existing strengths and gives them the confidence needed to progress to a more empowering and sustainable lifestyle. Michelle takes into account each individual's daily struggles, whether they are physical, emotional, or simply time constraints, and works to find just the right balance. Michelle will incorporate effective and simple eating plans to ensure that your journey is motivating and successful.
Rev32 Coach
Certified Personal Trainer (ACE)
Certified Yoga Instructor
Certified Zumba Instructor
Janessa first started her fitness journey teaching Zumba and it was her gateway into becoming a jack of all trades. She's also a certified Buti Yoga and Yoga instructor, as well as a personal trainer.
Janessa is actively involved in a group that helps people find self-love and body positivity called Embrace You. Her passion is to make health and fitness accessible to everyone and to show you you're worth it! She is excited to work with the Rev32 participants and help them throughout their journey. 
Rev32 Nutrition Coach
BS in Nutrition, University of Houston
Mayra was born in Bogota, Colombia but was raised most of her life in Houston, Texas. Growing up she was involved in any sport you could think of—from swimming, basketball, volleyball, and soccer, to even dance. Fitness became her true way of life. After earning her Bachelor of Science in Nutrition from the University of Houston, she entered the health and fitness world to explore her passion for helping and serving others. It was during her time at University that she self-diagnosed herself with an eating disorder, Orthorexia, and knew she was destined to help others battling similar body issues. With over ten years of experience, Mayra continues to guide and coach her clients toward optimal health. Outside the gym Mayra loves to serve at small community churches in Tijuana, Mexico. She currently resides in San Clemente and her goal is to be able to surf by the summer!
Out Next 8-week Session Begins October 30!
Click here if you are a ClubSport Aliso Viejo member.
Rev32 Virtual Information Session
Monday, October 23
7:00pm (PST)
Join us for our virtual informational session to discover the transformative power of the Rev32 program! We'll unveil how this 8-week fitness and nutrition journey can be your ultimate partner in achieving wellness goals, from weight loss and boosted energy to sound sleep and lifelong healthy habits. Let's embark on this exciting path together!
Join Our Virtual Information Session and Learn All About Rev32
Monday, October 23
7:00pm (PST)
We understand this is a big commitment. If you're still wondering how Rev32 Online can change your life, let's set up a time to chat! Fill out the form below so that your personal Rev32 Coordinator can answer any questions and get you started on your journey back to health today.